Podgodz 349
Recorded 14 July 2020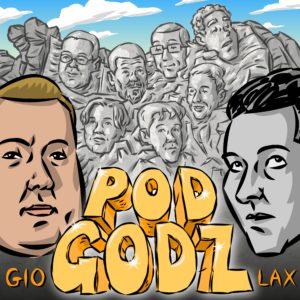 Podgodz 349: Lax and Gio talk shit
Recorded 14 June 2020
Shall we talk about our jobs?
 Released within 1 hour of recording, like it's 2013 again!
Podcasts
No Agenda is pissing me off
You Look Nice Today: California King…is it even a podcast anymore?
I might just have to delete a load of back episodes I haven't listened to.
Omnibus
Accidental Tech Podcast
Friendly Fire
Somehow I Manage
Food Safety Talk
Defocused
Election Profit Makers
Office Ladies
Bud Pod
Lockdown Parenting Hell
Monty and Rhias vs. Movies
Moe Factz with Adam Curry
The Adam Buxton Podcast
New
~*~
Dropped
Reconcilable Differences (RelayFM)
Back to Work
The Unmade Podcast
The Show/Movie of the Week
Eh, we couldn't be fucked
TV & Movie
Eurovision Song Contest: The Story of Fire Saga (2020)
Palm Springs (2020)
Hamilton…Meh…
Honestly…just a lot of Youtube
Don't forget that we are a listener supported show…blah blah…Crown Royal sack.
You can reach us @podgodz, podgodz@gmail.com and  on Facebook – that is podgodz with a Zed. You can also help fund this show, or Gio in general, at PATREON.com/Giovanni and hit up those Amazon Affiliate links.
Time to put the Crown Royal sack back on the microphone.
Music Provided by Rucka Rucka Ali, Check out his work at RukasWorld and possibly commission him for your next project.
Podcast: Play in new window | Download
Subscribe: Apple Podcasts | Google Podcasts | RSS